Giuseppe Mannino
Ricercatore/Ricercatrice a tempo determinato di tipo A
SSD: BIO/04 - fisiologia vegetale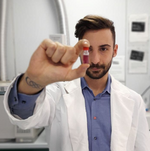 Contatti
0116706362
n/a
Dipartimento di Scienze della Vita e Biologia dei Sistemi
Via Accademia Albertina 13 - Via G. Quarello 15/A
10123 Torino
Presso
Department of Life Sciences and Systems Biology
Dipartimento di Scienze della Vita e Biologia dei Sistemi
Corso di laurea in Scienze Biologiche (L-13)
Laurea magistrale in Biologia dell'Ambiente
Laurea Magistrale in Medicina e Chirurgia - sede di Torino
Curriculum vitae
Curriculum Vitae (0.6 MB)
Temi di ricerca
Giuseppe Mannino, laureato nel 2015 in Chimica e Tecnologia Farmaceutiche e dottore di ricerca in Scienze Farmaceutiche e Biomolecolari dal 2018, è entrato a far parte del Dipartimento di Scienze della Vita e Biologia dei Sistemi dell'Università di Torino nel 2022 come ricercatore di tipo A. Durante il dottorato ha svolto un contratto di apprendistato presso un'azienda produttrice di estratti vegetali standardizzati, occupandosi di tecniche estrattive e molecolari di composti bioattivi vegetali. La sua attività di ricerca si concentra sulla caratterizzazione chimica e molecolare di molecole bioattive vegetali, con particolare attenzione all'analisi metabolomica e genomica, e sulla ricerca di composti naturali che esercitano azioni biologiche. L'analisi metabolomica viene effettuata con tecniche gascromatografiche e cromatografiche liquide accoppiate alla spettrometria di massa, mentre l'indagine genomica impiega tecniche di fingerprinting molecolare del DNA e di sequenziamento profondo dell'RNA per l'analisi trascrittomica e dell'ontologia genica, effettuata principalmente su piante di interesse farmaceutico e nutraceutico.
Giuseppe Mannino, a 2015 graduate in Chemistry and Pharmaceutical Technology and Ph.D. in Pharmaceutical and Biomolecular Sciences since 2018, joined the University of Turin's Department of Life Sciences and Systems Biology in 2022 as a Type A researcher. During his Ph.D., he conducted on an apprenticeship contract with a company producing standardized plant extracts, working on extractive and molecular techniques for plant bioactive compounds. His research activity focuses on the chemical and molecular characterization of plant bioactive molecules, with particular emphasis on metabolomic and genomic analysis, and on the search for natural compounds exerting biological actions. Metabolomic analysis is performed using gas and liquid chromatographic techniques coupled with mass spectrometry, while genomic investigation employs both DNA molecular fingerprinting and RNA deep sequencing techniques for transcriptomic and gene ontology analysis, carried out mainly on plants of pharmaceutical and nutraceutical interest.
Giuseppe Mannino, licenciado en 2015 en Química y Tecnología Farmacéutica y doctor en Ciencias Farmacéuticas y Biomoleculares desde 2018, se incorporó al Departamento de Ciencias de la Vida y Biología de Sistemas de la Universidad de Turín en 2022 como investigador de tipo A. Durante su doctorado, realizó un contrato de aprendizaje en una empresa productora de extractos vegetales estandarizados, ocupándose de técnicas extractivas y moleculares de compuestos bioactivos vegetales. Su actividad investigadora se centra en la caracterización química y molecular de moléculas bioactivas vegetales, con énfasis en el análisis metabolómico y genómico, y en la búsqueda de compuestos naturales que ejerzan acciones biológicas. El análisis metabolómico se realiza mediante técnicas de cromatografía de gases y cromatografía líquida acopladas a espectrometría de masas, mientras que la investigación genómica emplea técnicas de huella molecular de ADN y de secuenciación profunda de ARN para el análisis transcriptómico y de ontología génica, realizado principalmente en plantas de interés farmacéutico y nutracéutico.
Attività in agenda
Organi